Come Quickly Lord, and Restore the Joy of Our Salvation!
Readings: 1st: Br 5, 1-9; Ps 125; 2nd: Phil 1,3-6.8-11; Gos Lc 3, 1-6
This brief reflection was written by Fr. Njoku Canice Chukwuemeka, C.S.Sp. He is a Catholic Priest and a member of the Congregation of the Holy Spirit (Spiritans). He is a missionary in Puerto Rico. He is the Parish Priest of Parroquia la Resurrección del Senor, Canóvanas, and the Major Superior of the Congregation of the Holy Spirit (Spiritans), Circumscription of Puerto Rico and the Dominican Republic. He was the chancellor of the Diocese of Fajardo Humacao, Puerto Rico. Fr. Canice is a member of the Academy of Homiletics. For more details and comments contact him at: canice_c_njoku@yahoo.com, canicechukwuemeka@gmail.com
(https://orcid.org/0000-0002-8452-8392)
On this second week of Advent, we continue our journey of hope and waiting for the coming of Christ. Today, the church invites us to celebrate the marvels that God is about to work for us in a couple of weeks from now. This season, we wait in joyful hope for that "Day of the Lord" when his work will be complete in us.
All the readings of this Sunday are wake-up calls for us to prepare for the great encounter with the Lord, who is to come soon. So, while our first reading announces that God wishes to show the splendor of Christ to all nations, the second reading reminds us of "The Lord's Day," which obviously will initiate our salvation. This wake-up call is summed up and reflected in the prophecy of John the Baptist in today's gospel.
HURRAY! COMING SOON – HOMILY FOR YEAR C
Greetings, with joy, I announce to you that the Homily for Year C will soon be available in print in English and Spanish. Meanwhile, you can access and purchase them (ebook) at a very moderate price on:
https://www.smashwords.com/books/view/893122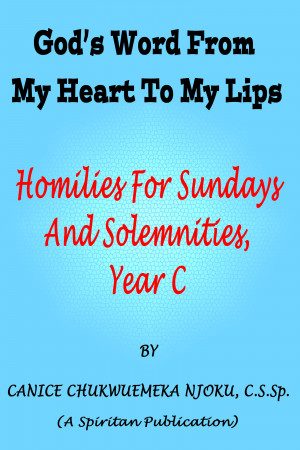 Make a one-time donation
Make a monthly donation
Make a yearly donation
Choose an amount
Or enter a custom amount
$
---
Your contribution is appreciated.
Your contribution is appreciated.
Your contribution is appreciated.
Donate
Donate monthly
Donate yearly
Christ comes in his glory this season, but his coming will be of no use to us unless we encounter him and share in the joy that he will bring at Christmas. If we genuinely prepare for him this season, our hearts will overflow with joy like a river overflows its bank when filled. Hence, the first reading of today tells us: "…take off your dress of sorrow and distress and put on the beauty of the glory of God forever…" (Bar 5, 1-9). This is rightly so because soon and very soon, we shall joyfully welcome the Lord.
On his part, Paul encourages us to remain steadfast in good works and continue improving our ways of life until the "Day of the Lord" comes. It is important to note that we must be ready to make some sacrifices to encounter Jesus Christ and share in the joy that he brings. This entails preparing and purifying ourselves through prayer, charity, love, and reconciliation. Hence, Paul says: "…This will help you to become pure and blameless, and prepare you for the day of Christ…" (Phil 1, 8).
Furthermore, whatever will constitute an obstacle to encountering Jesus Christ this season must be entirely removed as the voice of John the Baptist re-echoes clearly to us: "Prepare a way for the Lord, make his path straight. Every valley will be filled, and every mountain and hill be laid low" (Luke 3, 5-6). This means that we must sacrifice something this season for Christ to have his place in us and for us to experience his joy when he finally comes in glory and splendor.
Therefore, this season of Advent, let us humbly join the psalmist in to implore the Lord: "Restore unto me the joy of my salvation, O Lord my God (Ps 51:12). However, it is when we have successfully and sincerely prepared that we can share and radiate in the joy of the Lord. Only then can we exclaim: "What marvels the Lord worked for us; indeed we are glad" (Ps 125:3).
Finally, as we wait and prepare ourselves for the coming of Christ this season, may the Almighty God fill us with the strength and the patience we need to persevere without fainting. May our encounter with Christ this season restore the joy of our salvation. Amen!
Peace be with you.
Maranatha!