The Advent of Mercy and Liberation
Readings: 1st: Jr 13: 33-37; Ps 24; 2nd: I Th 3:12. 4, 2; Gos Lk 21: 25-28, 34-36
This brief reflection was written by Fr. Njoku Canice Chukwuemeka, C.S.Sp. He is a Catholic Priest and a member of the Congregation of the Holy Spirit (Spiritans). He is a missionary in Puerto Rico. He is the Parish Priest of Parroquia la Resurrección del Senor, Canóvanas, and the Major Superior of the Congregation of the Holy Spirit (Spiritans), Circumscription of Puerto Rico and the Dominican Republic. He was the chancellor of the Diocese of Fajardo Humacao, Puerto Rico. Fr. Canice is a member of the Academy of Homiletics. For more details and comments contact him at: canice_c_njoku@yahoo.com, canicechukwuemeka@gmail.com
(https://orcid.org/0000-0002-8452-8392)
The term Advent comes from two Latin words, "Adventus" or "advenire,' which means "to arrive" or "to come" respectively." Advent marks the beginning of the Church's liturgical calendar. It is a four-week period leading up to Christmas. For us Christians and Catholics in particular, it means a time of expectation and preparation for the Lord's coming. So, the prophecy of John the Baptist: "A voice of one calling in the desert, prepare a way for the Lord" (Mk 1, 3), echoes loudly to us this season.
Advent is a time when we expect mercy and liberation because our Lord, the King of the universe whose solemnity we celebrated last Sunday, comes to reign over his people. This Advent is unique because it ushers in the year of mercy and liberation. Therefore, Christ comes to pardon and liberate us from fears and all types of operations.
HURRAY! COMING SOON – HOMILY FOR YEAR C
Greetings, with joy, I announce to you that the Homily for Year C will soon be available in print in English and Spanish. Meanwhile, you can access and purchase them (ebook) at a very moderate price on:
https://www.smashwords.com/books/view/893122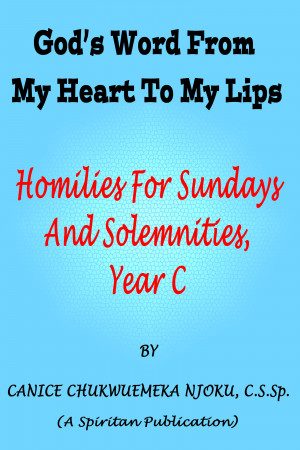 As our first reading puts it, this is the time we expect the fulfillment of God's promises to us – his children. The promise is about our deliverance and the restoration of our lost integrity, stifled by fear of the unknown. It is equally a time of restoration of our hope and faith. Jesus also comes to liberate us from shame and its attendant sorrows.
How do we begin this preparation? Paul gives us a clue in our second reading when he says: "May he confirm your hearts in holiness that you may be blameless in the sight of our God when our Lord Jesus comes with all his saints." The holiness of life in our world today appears to have lost its meaning or perhaps is one concept that sounds abstract.
Even many Christians believe it is unattainable. Yet, it is a necessary condition for seeing and meeting the Lord when he comes because, "Without holiness, no man can see the Lord" (Heb 12, 14). Therefore, it means that despite the difficulties we face in attaining holiness, this season, as Paul admonishes us, we have to "make more and more progress in the kind of life that we live."
A call to live a holy life is a call to strive for perfection. If it were not possible, Christ and the apostles would not have told us to be perfect as our heavenly Father is perfect. So, this season of Advent, let us avoid greed, licentiousness, inordinate ambitions, and anger.  Also, we must prevent malice, backbiting, gossips, abortion, drunkenness, immodesty, and all sorts of vices. We must prepare and equip ourselves with good virtues like a bride waiting for her groom.
Finally, as today's gospel tells us, one other important thing we must do is to keep ourselves positively busy, awake, and watchful. Therefore, this is a call for us to intensify and strengthen our prayer life. Prayer purifies the soul; it casts away all fears and prepares and strengthens us. Prayer provides us the spiritual energy, courage, and confidence to stand firm while waiting for our Lord's coming. Intensive prayer this season rather than being carried away by mundane preparations is what the Lord wants from us.
Make a one-time donation
Make a monthly donation
Make a yearly donation
Choose an amount
Or enter a custom amount
$
---
Your contribution is appreciated.
Your contribution is appreciated.
Your contribution is appreciated.
Donate
Donate monthly
Donate yearly
May our Lord find us awake and ready when he comes to liberate us from the fear that holds us captive. So, let us join the psalmist to say: "To you, O Lord I lift my soul, make me know your ways, and teach me your paths" (Ps. 34, 4).
Peace be with you!
Maranatha!